Rate for us
Rate for us
Publisherspot.com is an information and review resource about "Paid for writing" websites and blogs. We want to review "Paid for writing" websites and need you to rate these companies. Do you have experiences with these websites? Then rate for us.
Rates we are looking for
We feature articles that address issues of importance to writers who are looking for websites and blogs where they can write articles for. Rating theseWe write reviews about all the mentioned sites, that pay for writing. websites in the review posts are appreciated. We are also looking for more "Pay for writing" websites and of course reviews about them.
We are looking for people who have experience with these websites and want to rate/review, place anecdotal reviews or examples and resources where readers can obtain more information.
It may take 1 week to notify of rate acceptance. Simultaneous submissions are okay. We also need ratings and reviews about "getting paid for writing" websites who are not mentioned yet on our site. Contact us about that via info at publisherspot.com and specify your interest.
Compensation, how much we pay for a rating a "Paid for writing" website
Rating payment:
– $5 between 100 – 200 words
– $10 between 300 – 500 words
Payment is rendered by PayPal between 1 – 2 days after publication.
Publishing Terms and Conditions
By submitting ratings for publication on Publisherspot.com, you grant Publisherspot.com exclusive first rights to the ratings or small reviews. It may take 1 week to notify if your rating is accepted for this website, probably much sooner.
Before submission, check your rating for factual correctness, style and content. Ratings/Reviews need to be original, concise and professional and a nice to have, could include a very short biography of the author, but this is not mandatory.
You can submit your rating directly on every "review" post (all reviews till now), see example below: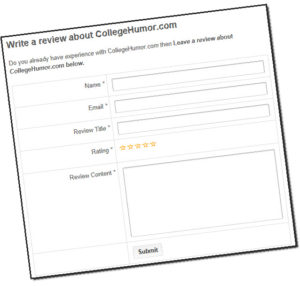 You just have to fill in:
– Name
– E-mail
– Review title
– Rating, 1 to 5 stars
– Review content
And then press the "Submit" button. We will do the rest.
or send it to us via info at publisherspot.com. Looking forward to see your rating review(s).
PublisherSpot Team.